Don Adams Dead at 82
Would you believe... That Don Adams the best actor ever? No? How about one of the best? Maybe pretty damn good?
Like many kids, growing up I watched a fair amount of TV and had many favorites. GI Joe and You Can't Do That On Television were two of my favorites, but #1 was by far Get Smart reruns on TV Land at 8pm CST.
I had come to know Maxwell Smart with his shoe phone and love of the Cone Of Silence extremely well, long before I heard of James Bond and truly loved the show or the other sources of his spoofdom.
The Shoe Phone: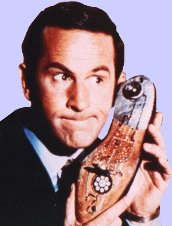 Cone of Silence: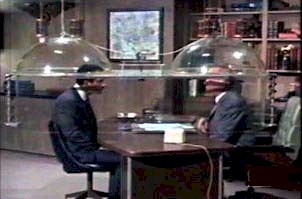 I was sad to learn today that
Don Adams died yesterday
at the age of 82
, without you Don, the world will continue to be in chaos, or as I fondly remember it from the show:
*singing* K-A-O-S... KAOS!!!
As sad as I am to hear of his death, I can only hope that it will at last be the force that causes the release of the Get Smart tv series on VHS or DVD, something I would buy in a second.
As it turns out, there is a year old
petition
to get just that and I'd suggest anyone reading this with any interest in it head on over and sign it.