Accosted by airport security... over a T-shirt
By now we've all seen the new Microsoft marketing campaign known as "I'm a PC" (aka Life Without Walls)... and as part of that shirts and other wares can be found quite easily, I am not only an owner of one, but an wearer of it as well: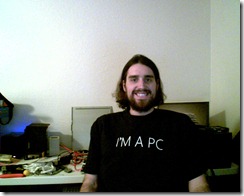 Back in October I had the pleasure of attending PDC 2008 in LA and had a great time talking to existing users of Windows Home Server, educating and evangelizing Windows Home Server to users who know little/anything about it as well attending sessions... and being harassed a little by airport security.
On the Sunday beforehand when walking through airport security at the Seattle airport I had the TSA official at the metal detector read my shirt and say "You're a PC eh?" and take a step towards me and pretend to kick me in the shins a few times and ask "You probably get that a lot don't you?"
Me: "Nope, first time"
Him: "You know, I actually like my PC, I've had it since... 2002 and it still works great"
Me: "That's great to hear..."
Him: "... only it is getting a little old and I'm thinking of replacing it with a Mac"
Me: "That's OK, Mac's run Windows pretty good"
We had a nice chat, but he had work he needed to do so it didn't go much further.
Fast forward a few months... week before last my mother was traveling through Minneapolis airport, wearing a slightly different "I'm a PC" shirt I gave her for Christmas (sure I'm cheap, but at least it's not cheap crap).
After making it through airport security she immediately called me to tell of the following exchange:
TSA Officer: "Um... what's a PC? Are you a personal companion?"
My Mom: "You know... a personal computer?"
TSA Officer: "A what?"
My Mom: "Not a Mac"
TSA Officer: "Oh!"
So not only do have TSA officers pretending to commit acts of violence against passengers (and yet we can't tell a bad joke involving knives, bombs, or pastries of mass destruction)... we have some who are apparently oblivious to major marketing campaigns from both Microsoft and Apple... this is not good.