A warning about "Marley Valdez"
While this has always been a 'personal' blog, I have often times refrained from posting about various personal subjects, this post, along with the possibility of one or two more on this subject will break from that tradition.
What follows is a cautionary tale of my having been nice to someone a few months ago and how one "Marley Valdez" (like the coffee she told me), (aka MarleyV, Marley_V, marleyisme) who accepted my generosity and took me for a ride and now cannot even bother to admit it but instead continues to lie and make excuses.
Being a single guy, I've got a profile on a dating site or two and back on August 10th I received a wink from someone whose title was "All you need to know is Marley is me" (Match.com link, PDF  print out for after she deletes it) and after I opted to 'wink' back I received an IM from someone whose screen name was suggested in the ad title.
Amazingly she figured out how to track me down for free and sent me a few messages on AIM (AOL Instant Messenger) which lead to some nice chatting there. Eventually we moved over to the phone and all was good and interesting, more so considering she was in the process of moving to Redmond (a move she claimed had planned and begun before she found me) from Springfield, Missouri in just a couple of weeks.
During the time on the phone certain things were said that I would hear but ultimately shrugged off as I didn't want to dig into them too much at the time, things like that she had no one she could depend if she were to ever need help and that she was currently PC-less... but had not long ago ordered one and it shipped to her new Redmond address and was using a pay as you go cell phone for things like AIM and email.
It was revealed at one point that her moving plans had hit a bit of a snag due to financial reasons and I ended up offering to loan her a few bucks. At first she was resistant but upon a bit of pressing she said that she thought it would take $100 to get her back on track, and being in a rather generous mood (an extreme rarity for me) I offered to loan her $200 with no expectations or strings... other than that she would pay me back for it and any associated fees after she got to the area.
Was I under any kind of delusion that anything would happen between us? She would try to hint at such things but I did not think so. Did I loan her the money because I thought once she was here we would magically hit it off and by doing so I'd be getting my new all but certain girlfriend here that much quicker? Not at all.
I simply opted to be friendly and generous. The first is fairly common, the second less so and I was up for something out of the ordinary.
The transfer was strange as she claimed to have misplaced her driver's license so when I used Western Union to send the money to her, we used the name of a friend of hers, but after that all of which went smoothly and we kept up semi-regular contact until she hit the road where not long later communication became problematic at best, if present.
That was nearly 4 months ago.
While she did ring me a couple of times while on the road she went silent for an extended period and claimed to have taken ill twice along the way on a trip that she expected to take 3 days but took more than 2 weeks.
Eventually I noticed she was on MySpace from time to time and I'd write her... and largely get silence. Sometimes she'd respond with an excuse of being ill and promising to call or x, y and z. All the while she would post new, sometimes elaborate looking pictures (NSFW) and others at various parties.
It was at this point I realized that things were not as they seemed.
On her Match.com profile she said she was 27, the same age she said on AIM... while on MySpace she said she was 25.
On IM she said she was a "nurse/painter/photographer/dominatrix" and that nursing was her 9-5 job, however on her MySpace site there was no trace of such a position.
At present her MySpace claims her to be living in California, with no mention of her claiming to have moved to Redmond, WA or the time she spent allegedly visiting friends in Vancouver, Canada just prior to moving here.
Sure nothing truly incriminating (that stuff was in the AIM logs and phone calls and perhaps best left for another post), but do tend to tell a story of dishonesty at  some level which only reinforces what I've come to think after all of this.
In the couple of responses I've been able to get out of her on MySpace she claimed to be ill again, not working and even now pregnant as reasons for her not having paid me yet and not being very communicative... and yet all the while still finding time to hang around MySpace and post new pictures.
While I would rather like to see my $227 back from her... I'm pretty confident that I will not.
Was it all a scam? Possibly, but doubtful. Even if every word she has told me is true... that points to something far worse... that she's an immensely flakey person who uses people and cannot be bothered to admit to it after the fact.
Had she picked up the phone in all of this time, called me and talked to me like a human being and been honest with me... I would probably be a lot more understanding than I sound (or am).  Instead every time I have asked her about this on MySpace (the only semi-reliable way to contact her), if I do get a response I get more excuses and apparent lies out of her.
Why did I offer her the money to (what I thought was to) put her back on the road? At the time, it was the first time in my life that I wasn't struggling financially and I figured I could be nice for once... we see now what that niceness got me. What makes it worse is that I'm not the only one affected.
On an Saturday night in early October when an 18 year woman from Georgia came by to tell me about how she's trying to work her way up, raise her twins right and not and selling magazines to accomplish that... I told her "As much as I would like to help... the last time I offered or agreed to help someone out, one Marley Valdez took me for a ride and has largely destroyed my willingness to help others for the time being... so all I can offer you is to say good luck."
What is the point of all of this?
Two fold really, I have tried, quite unsuccessfully for a few months to be polite and patient when trying to get word from her on when she would be paying me back. Much of this happened through MySpace (a site I have an account on but do not exactly use much) as it was the only reliable mechanism at hand (while I do have an email address, AIM handle and a pair of phone numbers none seem to be used much).
Unfortunately a month ago though it seemed she had had enough of saying things like "but i promise it will get better" and "but i will send it asap and give you a date" and instead, blocked me: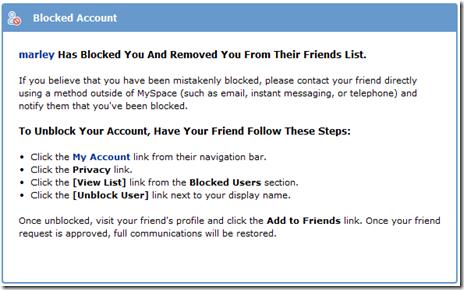 So instead of allowing me to handle this privately, I get to take it public. Lucky for her I'm not the sort of person who easily feels shame, so I have no problem admitting to what has happened.
The second reason is as a warning to anyone in future who might be approached by someone going by the alias of "Marley Valdez", MarleyV, Marley_V, marleyisme and tells a tale similar to what I've described above... be cautious, but then that is good advice under any circumstances.
And now we return to our regularly scheduled blogging... how bout that  Windows 7 eh? and that Windows Azure? Worry not dear blog readers, there is more entertaining and technological and political blogging ahead.