Upcoming Immigration Protest Related Lawsuits
I have enjoyed hearing about the protests in southern California with regards to the immigration legislation currently being discussed in Washington. There is just something about people demanding rights in this country while waving the flag of their country of origin that makes me laugh.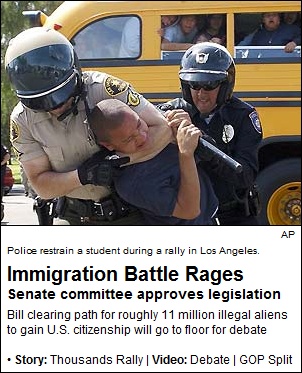 Tonight when taking a look at the main page of
Fox News
I ran into a picture that made me laugh for a moment... until I realized that will likely turn into a lawsuit and possibly result in the two police officers visibly involved getting spanked rather hard.
No doubt the parents of the student pictured will sue the city and the school for allowing this to happen, but also the parents of each and every student on the bus will file suit for the emotional trauma that their child suffered as a result of witnessing this (what will be called) brutality.
If you will excuse me, I need to get back telling my elected officials to support legislation that secures our border with more agents and a bigger fence, punishes employers who hire illegal's and criminalizes being in this country illegally.
In the mean time though, take a read of this
wonderful post
over on
South Dakota Politics
which puts all of this in an interesting light I think.